Welcome to Low Carb Desserts! (Which double as breakfasts since I usually wake up w/ a sweet tooth).
When I can - I'll include the carb/fiber count. Sometimes I've made these desserts for so long I can't remember what the count was when I started making them.
RUTHI'S MINUTE ORANGE CAKE CUP
2 teaspoons butter
1 tablespoons brown sugar splenda (to taste)
2 tablespoons flax meal
2 tablespoons almond flour
1/2 tablespoon vanilla (or Da Vinci sugar free syrup flavor of your choice)
1 egg
1 teaspoon grated orange rind (or tsp orange extract
-optional- add 1 1/2 tablespoons s.f. chocolate chips

Melt the butter in a mug in the microwave, about 20 seconds. Add the remaining ingredients and mix well. Scrape down the batter from the sides of the cup.
Microwave on HIGH 1 to 1 1/2 minutes or until just set.
Makes 1 serving
Can be frozen
Per Serving without chips: 294 Calories; 25g Fat; 12g Protein; 7g Carbohydrate; 5g Dietary Fiber; 2g Net Carbs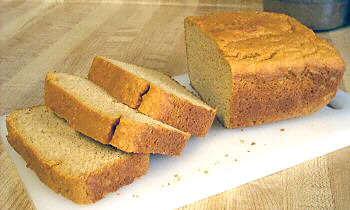 DOTTIE'S PUMPKIN POUND CAKE
1 cup canned pumpkin
1 cup granulated Splenda or equivalent liquid Splenda
1 teaspoon baking powder
1 teaspoon vanilla
1/2 teaspoon pumpkin pie spice or 1 teaspoon cinnamon
Pinch to 1/8 teaspoon salt
5 eggs
6 ounces almond flour, about 1 1/2 cups
Grease an 8x4" loaf pan well or line with foil and grease foil. In a medium bowl, beat the pumpkin, Splenda, baking powder, vanilla, spice and salt, if using, with an electric mixer until well blended. Beat in the eggs, then the almond flour. Add a little water, if needed, to make a thick, but pourable batter (I didn't need it).
Pour into the pan and bake at 300º 60-75 minutes, until the cake pulls away from the sides of the pan a bit and a toothpick comes out clean. Mine took about 65 minutes.
The toothpick came out clean at 60 minutes, but it needed to brown a little more. This comes out so moist that the extra baking time will be fine. Let cool in the pan on a rack for 10 minutes. Remove from the pan and peel off the foil; cool completely on a rack before slicing. Store in the refrigerator or freeze.
Makes 1 loaf or 12 servings
Can be frozen
Per Serving: 130 Calories; 9g Fat; 6g Protein; 7g Carbohydrate; 2g Dietary Fiber; 5g Net Carbs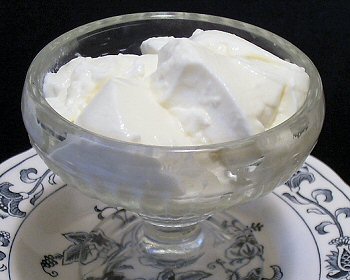 PANNA COTTA
1 envelope unflavored gelatin *
2 cups heavy cream
1/3 cup granulated Splenda or equivalent liquid Splenda
1/2 teaspoon almond extract or 1 teaspoon vanilla
Spray six 6-ounce custard dishes with non-stick spray. In a small bowl, sprinkle the gelatin over 3 tablespoons cold water; let stand 5 minutes to soften. Bring the cream, 1/2 cup water, Splenda and extract to a boil on medium heat (I used the microwave on HIGH for about 6 minutes or so, watching closely).
Remove from the heat; add the gelatin mixture; stir until the gelatin is completely melted.
Pour into custard cups. Cover the surface with plastic wrap to prevent skin from forming, if desired.
Chill at least 3 hours.
Makes 6 servings