Hi Everyone,
Here are recipes that didn't fit in the LC or Raw categories. I'll add them as I go then hopfully organize them in some meaningful way once I get enough to start categorizing.
If you're not familiar with Chocolate Covered Katie yet - you should run- not walk- to her site:
http://chocolatecoveredkatie.com/
She's AMAZING! And my first recipe is right from her site. Mine just uses splenda! She also has a S.F. version on her site so check it out.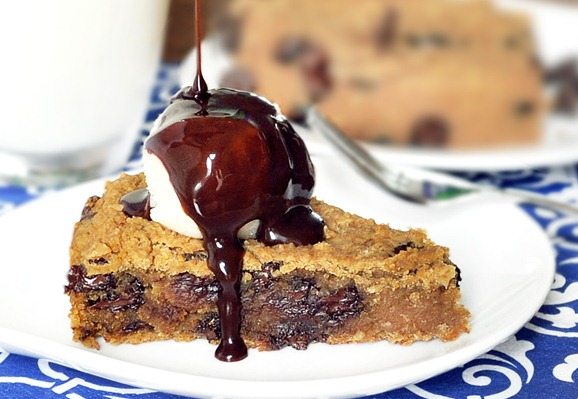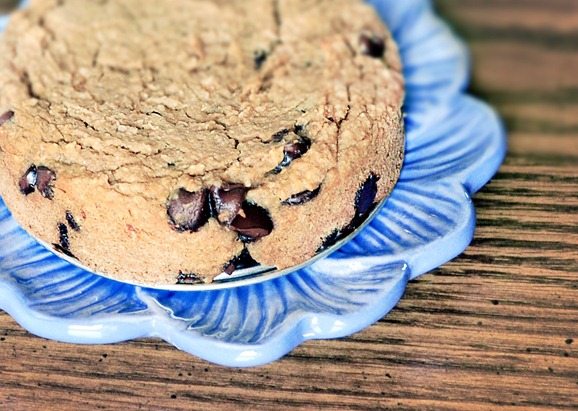 Side note: If you make 1/4 of the recipe, you can put it in a mini springform pan for a baby pie, like the one above. And if you make a half recipe in a shallow pan, you can have… a healthy cookie cake!! (You know, like the ones at the Great American Cookie Co in the mall?)
(gluten-free!)
2 cans white beans or garbanzos (drained and rinsed) (500g total, once drained)
1 cup quick oats (or certified-gf quick oats)
1/4 cup unsweetened applesauce
3 tbsp oil (canola, veg, or coconut)
2 tsp pure vanilla extract
1/2 tsp baking soda
2 tsp baking powder
1/2 tsp salt
1 and 1/2 cups Splenda brown sugar
1 cup chocolate chips
Blend everything (except the chips) very well in a good food processor (not a blender). Mix in chips, and pour into an oiled pan (I used a 10-inch springform pan, but you can use a smaller pan if you want a reallydeep-dish pie.)

Cook at 350F for around 35-40 minutes. Let stand at least 10 minutes before removing from the pan.
(Calorie Note: I haven't calculated the calories for this recipe, but a few of the commenters did. According to their calculations, the pie will have around 200 calories per slice, as opposed to 700 in a slice of traditional deep-dish cookie pie.)
Perhaps calling it "healthy" is a stretch. After all, there's still sugar, and there are still chocolate chips. But in comparison to your standard cookie pie—with its plethora of butter, eggs, and white flour—the above version is a much healthier alternative, while still tasting just as naughty. Plus, you get lots of fiber and protein from the oats and chickpeas.
And I promise
no one
can tell that these ingredients are in there.
Chocolate Chip Peanut Butter Balls (NO-BAKE!)
You know you want one.
Or two.
Or four hundred and fifty four.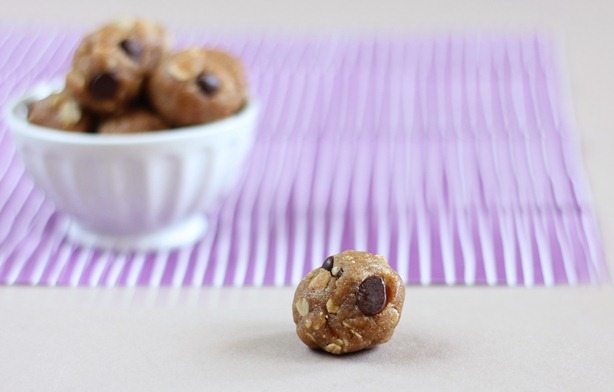 Maybe not four hundred and fifty four.
Then you'd get a stomachache, and that's no fun.

On the other hand, the stomachache might be worth it. For chocolate and peanut butter?
So worth it.
Chocolate Chip Peanut Butter Balls
(can be gluten-free)
1/2 cup rolled oats (or oat bran or quick oats) (Maybe even flaxmeal or protein powder!) (40g)
1/2 cup peanut butter (or other nut butter, or Sunbutter to be allergy-friendly) (115g)
stevia drops to taste, or 2 tbsp plus 2 tsp pure maple syrup, or another sweetener of choice (If using a dry sweetener, you might have to add a little water or oil to make a dough. If using a liquid sweetener—such as maple syrup or agave—don't add any extra liquid.)
scant 1/8 tsp salt
2 tbsp flour or oat bran, or perhaps protein powder (I used spelt flour, but many others—such as oat or almond or all-purpose flour—will be fine. Not sure about coconut flour.) (15g)
chocolate chips!!
Combine all ingredients in a cereal bowl, and mix until well-incorporated. (If you store your nut butter in the fridge, you might want to melt it a little so it stirs more easily.) Roll into balls, and try not to eat them all at once. Luckily, this recipe doesn't make four hundred and fifty four.
When is chocolate-peanut-butter not delicious?
That would be never.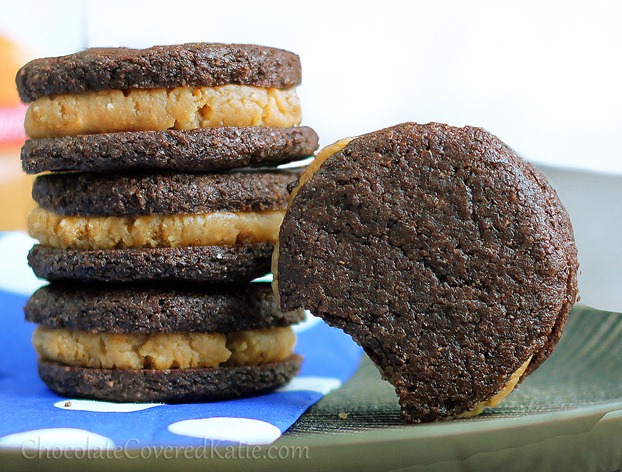 For today's recipe, instead of simply spreading peanut butter on top of regular vegan Oreos, I've replaced the cream filling completely with an easy peanut butter filling so delicious you might want to make extra to eat by itself.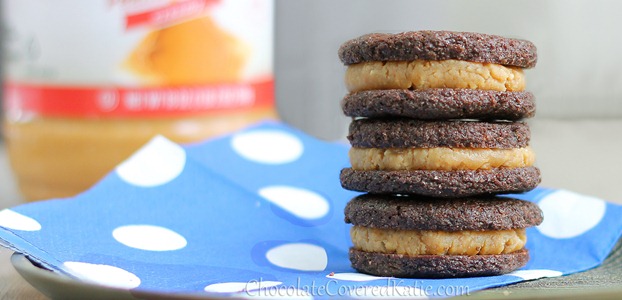 Peanut Butter Creme Oreos
Cookies:
3/4 cup spelt flour (Readers have reported success with Arrowhead Mills gf as well.) (120g)
1/4 cup plus 2 tbsp dutch cocoa powder (30g) (Regular cocoa is fine; the Oreo cookies just won't taste as authentic.)
1/4 cup plus 2 tbsp xylitol or sugar (or coconut sugar) (78g)
1/4 tsp salt
1/4 tsp baking soda
1 tsp pure vanilla extract
1/4 cup vegetable or coconut oil (44g)
3 tbsp milk of choice (45g)
2 tbsp pure maple syrup (or agave) (30g)
Filling:
1/2 cup peanut butter (or allergy-free alternative) (110g)
1/2 cup coconut butter (For a coconut-free version, see "nutrition info" link below) (110g)
1/4 tsp pure vanilla extract
pinch salt
stevia extract to taste, or 1/4 cup powdered sugar
Combine first 5 ingredients, and stir very well. In a separate bowl, combine all liquid ingredients for the cookies. Mix wet into dry to form a dough, then refrigerate 30 minutes before baking. Preheat oven to 300 degrees F. Put dough in a plastic bag, and smush into one big ball. Remove from bag, roll into a thin dough, and cut flat circles using a circle cutter or a circle-shaped lid. Bake on a greased cookie tray for 11-14 minutes (depending on whether you want softer or crispier cookies). They'll still look a little underdone when they come out of the oven, but that's ok. Important: allow to cool 10 minutes before removing from the tray.
For the filling: first make sure your coconut butter is softened. Mix all filling ingredients in a small food processor (or very patiently with a fork, if you must. Texture might be a bit crumbly if you mix by hand; be sure to start with softened peanut butter). Divide filling among half of the cookie discs, then top with remaining cookie discs and fridge so filling firms up. Makes 20-25 sandwich cookies, depending on the size of your circle cutter and whether or not you bother to re-roll all the dough.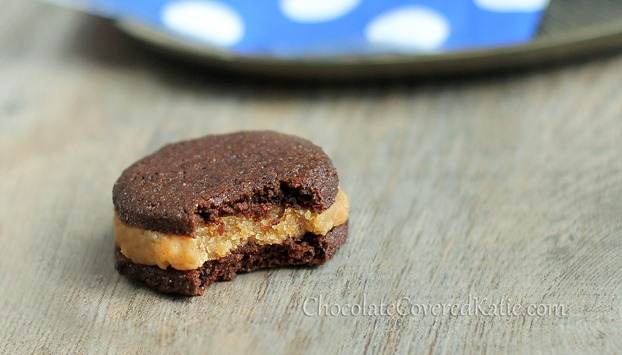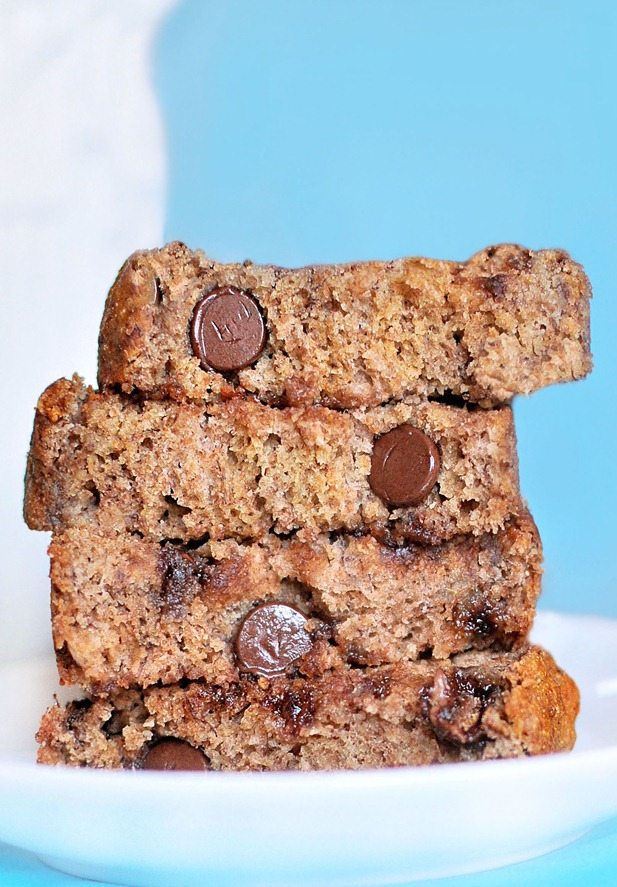 This gooey and delicious recipe is very similar to my other banana bread recipe… but better, because it has chocolate chips! I know a lot of you find it easier if I don't make you click links, so here's the recipe for the chocolate version:
(Makes 10-12 slices)
2 c spelt flour (or white, or Arrowhead Mills gf, etc.)
1 tsp baking soda
1/2 tsp cinnamon
3/4 tsp baking powder
3/4 tsp salt
1/3 c milk of choice (or oil)
1 and 1/2 tsp pure vanilla extract
1/2 cup agave or maple syrup
1 and 1/2 T lemon juice
1 stevia packet (or 1 T more agave or other sweetener)
2 c tightly-packed, mashed banana (measured after mashing)
1/3 to 2/3 cup chocolate chips
Preheat oven to 350 F. Combine dry ingredients, and mix well. In a separate bowl, combine wet ingredients and mix into dry. (Mix by hand, and don't overmix.) Pour into a greased loaf pan and cook 35-50 minutes, depending on how gooey you want it. (Tip: If the top is cooked but the inside is still gooey, put tin foil over the top and continue to cook.)
After removing from the oven, let cool for ten minutes before slicing. After the first day, this bread is best stored in the fridge. Or cut it into slices and freeze for later.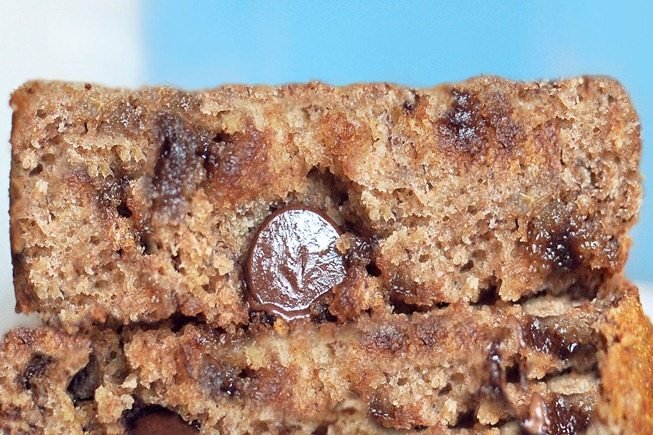 This is NOT a slimmed-down version but I need to keep this recipe somehwere!!
Save this for one of your cheat days:
Best Cafe Style Chewy Chocoalte Chip Cookie
REMAKE:
INGREDIENTS
1.5 cups + 2 tablespoons all purpose flour
.5 cup low carb baking flour (bobs red mill)
1 teaspoon baking soda
2 teaspoons cornstarch
1 teaspoon salt
1 ½ sticks (6 oz) butter, melted and cooled
1 cup brown sugar, lightly packed (I used light brown sugar, but dark brown sugar will work as well if you want a more molasses-y flavor)
½ cup Splenda
2 large eggs
2 teaspoons vanilla extract
1½ cups dark chocolate chips
DIRECTIONS
In a medium-sized bowl, whisk together the flour, baking soda, cornstarch, and salt. Set aside.
In a large bowl, beat together the cooled melted butter and the sugars with a hand-mixer for about one minute. Then, add in the eggs and vanilla extract. Beat until just combined.
Slowly add in the dry ingredients and mix briefly, just until there are no flour clumps left. Fold in the chocolate chips.
Cover and refrigerate the dough for 30 minutes to an hour.
Remove the dough from the refrigerator and preheat the oven to 325 degrees, making sure you have the racks in the middle of the oven.
Scoop ¼ cup of cookie dough at a time and roll into balls. Then, tear the balls in half by pulling gently on both sides. Smush the two halves together again, but this time have the lumpy, torn sides face upward. Place on a baking sheet lined with parchment paper, making sure the cookies have plenty of space to spread.
Bake for about 12 minutes, rotating half-way through, or until the cookies have spread out and the edges are golden, but the center of the cookie still looks soft and just slightly under-cooked. Let cool on the baking sheets until the cookies are firm enough to remove. Every oven is different, so I recommend starting with just one or two cookies on the tray to see what baking time works best for you!
Repeat with remaining batches, until all cookies are baked. Enjoy with a cold glass of milk!